Three Versions of Open Rails
Three versions of Open Rails are readily available to users, as shown below:
For first-time users, we recommend the Stable Version which comes with an installer.
Updater
Whichever version you choose, Open Rails has a mechanism to notify you of new versions and to update Open Rails for you. You will find the settings for this mechanism in Menu > Options > Update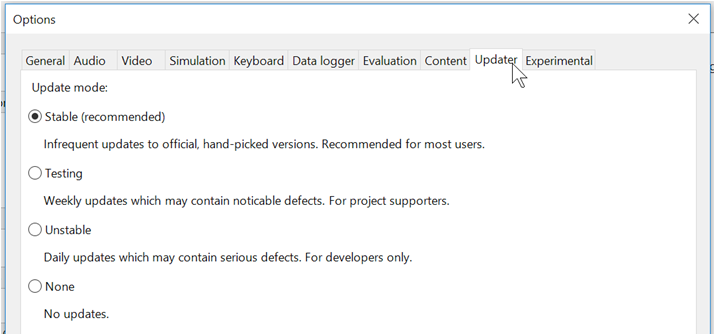 Open Rails will check for updates at most once a day. If an update is found, then you can install the update just by clicking on the link in the top, right corner:

Testing Version
If you follow the Open Rails project on the forums, then you will hear about bug-fixes and new features. These are included in the Unstable Version for developers and testers to try out. Once they have been checked and approved, they are published (on Friday) as the latest Testing Version. Any user can easily update to the current weekly Testing Version and benefit from these improvements.
Recent Code Changes

T1.4-148-ge5d8f1cf2 Merge pull request #559 from Csantucci/Distributed-power-cab-display
https://blueprints.launchpad.net/or/+spec/distributed-power: Distributed power cab display and controls

c7f1150b Distributed power: consider also Loco Brake in the value of BC
11fd74b5 Distributed power: update OR manual
83ed063e Distributed Power: compress UoM strings of load
e24a796e Distributed power: manage yellow colour for dynamic brake display
7ff949bb Distributed Power: use ORTS_SIGNED_TRACTION_BRAKING to compute load
394972a3 Distributed power: remove wrong Flow field and correct wrong load field, by mbm_OR
3d3e37af Distributed Power: pass LoadUnits to GetDPuStatus()
6dd7738d Distributed power: cleanup scaling issues and make DP screen page background transparent
9e80053e Update Source/Documentation/Manual/cabs.rst : improve text
Co-authored-by: Cedric GNIEWEK
37a83884 Distributed power: added missing picture
aaeb2517 Distributed power: improve typo fix
ef03f09c Distributed power: fix typo in usings
26bd936f Distributed power: cabview display and controls

T1.4-134-gf1451af10 Merge pull request #551 from pzgulyas/timetable-or
> @cjakeman, @twpol, could you please explain the reason of discrepancy between the two above linked descriptions?
Sharpe49 is quite correct.
The Open Rails Triage delivers a report of the active submissions for James to monitor. I don't think it takes any action.
The process for peer-reviewers is set out in Contributing.md
Hope that helps,
Chris

0aa1e46c Make handling the timetable-or extension consistent.

T1.4-132-g8ed228436 Merge pull request #566 from mbm-OR/bugfix/Fix-F5causesORtocrash
Fix for https://bugs.launchpad.net/or/+bug/1956262. F5 causes OR crash.

04d1bb7c Fix improved
b022de2d Fix for https://bugs.launchpad.net/or/+bug/1956262. F5 causes OR crash.
The current Testing Version can also be downloaded as a Zip archive: